Learn more about Milestone
Frequently Asked Questions
Get to know how we work. We believe you'll find us easy to work with and very detailed.
(Click question to reveal answer)
How do I start the discussion process to make sure you're the right fit for our event, and where do we meet?
From our first contact by email, phone or in person, we start to learn the basics about your special day and how we may become a part of it. The next step would be to schedule a no-pressure consultation meeting in our Main Street Windsor Locks office. Yes... an actual office! :) No need to meet up at the local coffee house or diner to discuss your big day. No distractions, no pressure. Once we have a chance to meet and discuss your specific plans, we'll send you a no-obligation contract to lock in the day, services and terms agreed upon at our meeting. Your date and terms will be held for 2 weeks before a deposit and signed contract is due. Once you have a contract in hand, we won't book the date out from you before your deposit due date. You have peace of mind to make your big decision without the pressure of potentially loosing your date.
How do I pay for services?
Once our wedding date is locked in, what's next?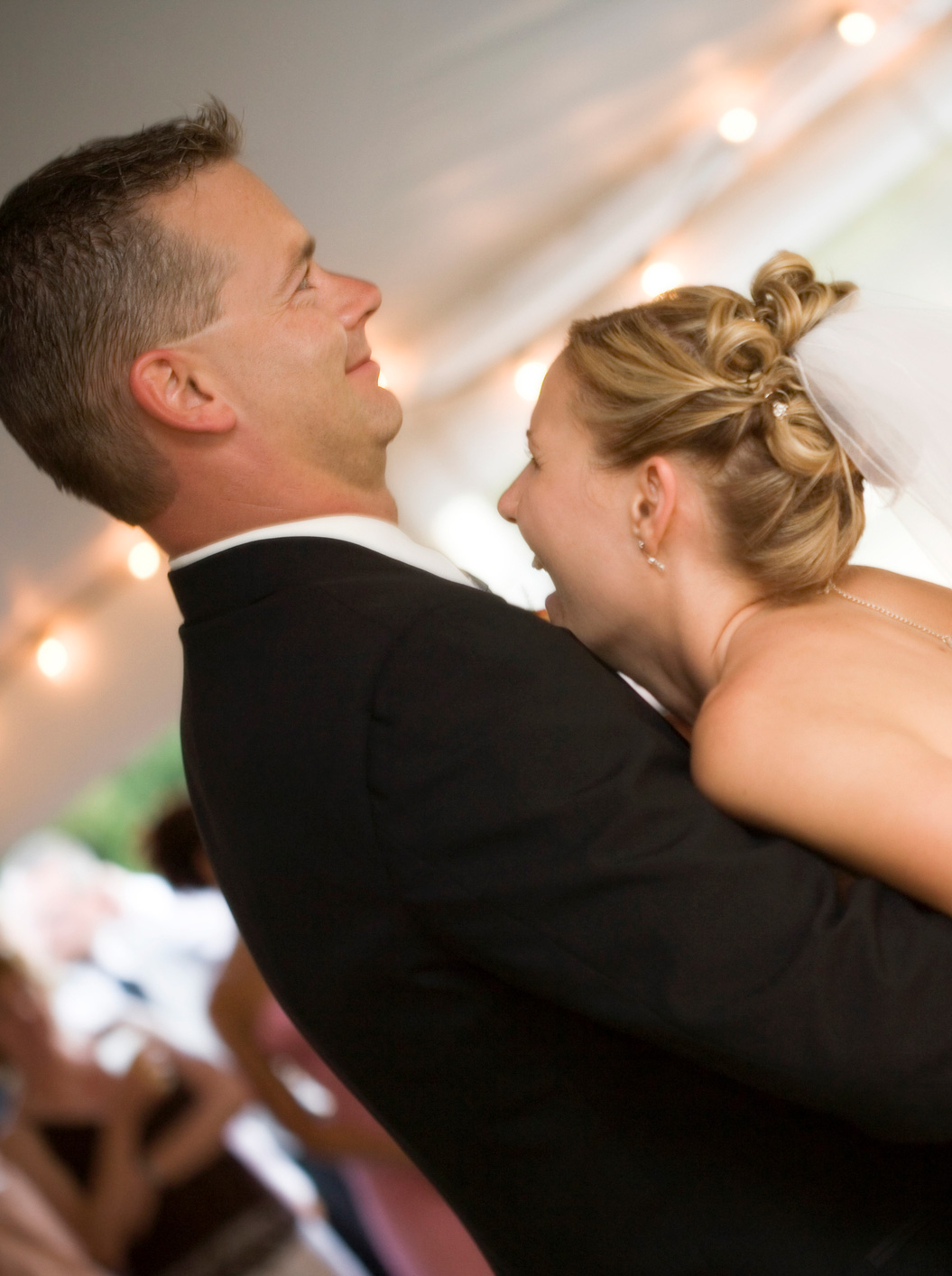 Do you have liability insurance?
Yes! This day and age, all professional entertainment companies should always have a minimum $1,000,000 liability insurance policy. Most professional event venues actually require a entertainment provider to provide proof of liability insurance before performing on-site. Our policy is on display in our office, on file at many venues, and available to be emailed to you or any new venue we may have the pleasure of performing at.
Do you have backup equipment?
Do you display any of your companies signage at weddings/events?
Can I pick the music? Can I supply you with a NO-PLAY list?
Your wedding day is your day so YOU call the shots! During the planning process, we learn what songs you want played, and what songs you don't want played. No two weddings are the same. We carry thousands of songs from virtually every musical genre and if there's something we don't have, we'll get it! Our music library is constantly updated with high quality audio files. Beware of "Djs" that are ripping low quality audio files off of YouTube or other non professional sources. As professional Disc Jockeys, we listen to your selections and provide feedback at our planning meetings. At these planning sessions, we determine exactly what you want, and do not want to hear. However, rest assured that if a guest requests a song you have chosen to be omitted, it will not be played. Any appropriate guests requests will be considered with your musical taste in mind.
Once we agree on a contract. Are there any other fees, taxes or gratuities that I'll be responsible for?
How long have you been a DJ? Tell me about the experience of your team.
Photo Booth FAQs
Is your photo booth easy to use and how fast do the photos print out?
Our photobooth couldn't be easier! Just follow the easy instructions on the touch screen. One button starts the session! There is always a photobooth attendant to greet your guests, assist with the session and provide the prints. Once a session is complete, the photos start printing immediately. It takes about 10-15 seconds to print your photos.
Are the photos high quality?
How much room do you need for the booth and how many people can fit inside the photo booth?
What if I want more than one copy of the same image?
Can I also access my pictures online?
How much time is needed to set up the photo booth and do you provide props?
Appoximately 1 hour is needed to load in, setup and test your booth before showtime. Our booth is much more than a simple camera in a poteum. We have been known to set up in much less time, but rather have an hour to address any unforseen chalenges. There are no additional charges for set-up. If you want props, you got em! Some events do not require props, but if yours does, we have an entire table set up for your guests at no additional charge. Props are kid friendly and sanitized after every event. You can even supply your own special props for us to include.
Can we personalize the prints and do we get unlimited photos?
What is your Video Booth option?
If I add the Memory Book option, what's included?
What if there is a problem during our event?